Dining in North Lake Tahoe is even better with a lake view. That's what makes this area so special – it features a number of lakefront dining options overlooking Lake Tahoe.
Best of all, even just by dining in North Lake Tahoe, you're helping to travel responsibly when you're mindful of the following:
Choose a locally-owned business to help support the local community. Many of our businesses have a rich history that they look forward to sharing with you.
Read up on restaurant rules ahead of time, especially if you're traveling with your pup. You can see a list of dog-friendly restaurants here.
Many of our lakeside restaurants feature great cocktails and other alcoholic beverages.
While we want you to have a great time in North Lake Tahoe, we also encourage you to travel safely. Free resources like TART are available to help you get from place to place without the hassle of driving.
If you take leftovers/takeout with you after your meal, make sure to properly dispose of your trash. Also practice being "bear aware" by never leaving food in your car, and keeping wildlife safe by refraining from feeding animals.
Pack a reusable water bottle with you so you can be hydrated on your adventure after your meal.
Experience some of the best local restaurants with waterfront views in the towns that make up North Lake Tahoe. For a more complete list of area restaurants, click here.
BEST LAKE TAHOE DINING WITH WATERFRONT VIEWS
ALPINE MEADOWS
The historic River Ranch Lodge & Restaurant is situated on the scenic Truckee River. The spacious outdoor patio is the perfect place to enjoy a meal with a view. The menu includes an excellent choice of appetizers, along with dinner items ranging from black cod and prawns to bison short ribs. This California restaurant regularly has patrons arriving by canoes, rafts and inflatables, so sit back and enjoy the surroundings.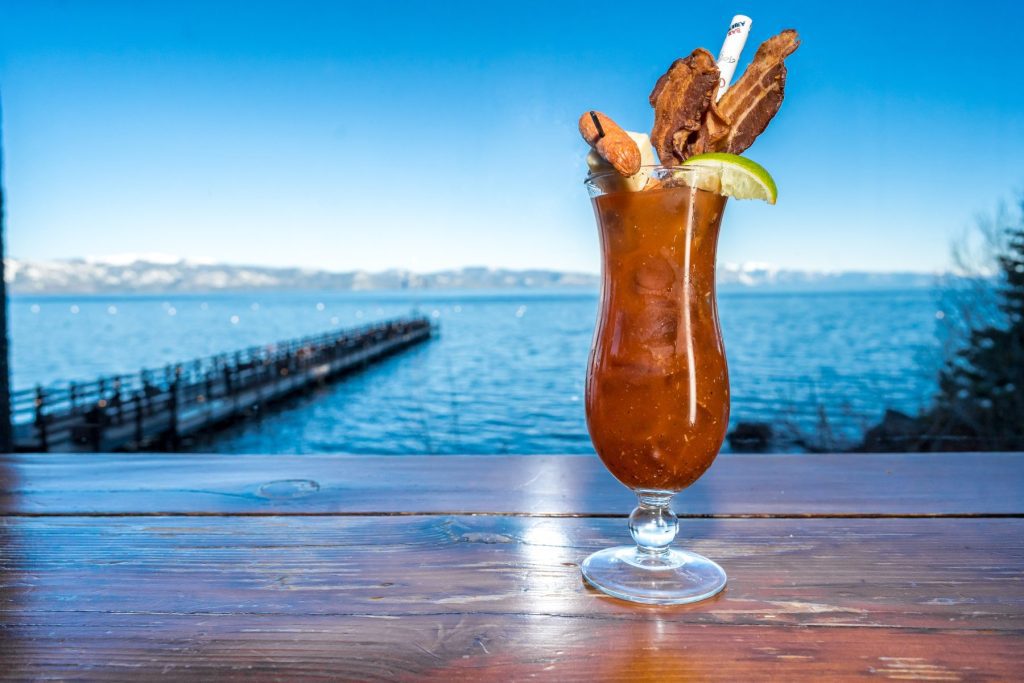 CARNELIAN BAY
Healthy and tasty menu items are what you'll find at Waterman's Landing in Carnelian Bay. In addition to a wide variety of coffee selections, Waterman's Landing features breakfast, lunch and snack items, including vegan, gluten-free and paleo options. Enjoy a great meal, then rent a watercraft at Waterman's and experience beautiful North Lake Tahoe.
Gar Woods Grill & Pier, named for the man known for his unique racing and pleasure boats in the 1920s, is set on the north shore as well as along Lake Tahoe's Rum Trail. The California fare and cocktails are almost as popular as the lakefront dining views of Lake Tahoe from the interior and balcony. A long pier leading to the restaurant has seen its share of dramatic arrivals to the location.
INCLINE VILLAGE
There are few places with a better view of North Lake Tahoe sunset than Lone Eagle Grille. Oversized windows provide panoramic views of the lake, although in warmer months, the dining room features outdoor patio seating and lakefront fire pits. The menu changes seasonally and with the guidance of Chef Shane Hammett, you can expect the finest ingredients and flavors.
Celebrating its 25th anniversary, Big Water Grille continues to impress patrons with its California cuisine from steaks to seafood and much more, at the restaurant's Nevada location. Just as impressive are the sweeping lake views, no matter where you sit. Treat yourself to the restaurant's fine dining, extensive wine list and view of North Lake Tahoe and the surrounding mountains.
KINGS BEACH
An excellent stop for kids and adults alike is Jason's Beachside Grille. The restaurant serves up American classic dishes, an assortment of fresh fruit, a salad bar and chicken fingers, sure to please any family member. Enjoy Cajun salmon, barbecue baby back ribs, a half-pound burger and more, while sitting on the lakefront deck and taking in the scenery.
If you get a craving for pizza, head to Whitecaps Pizza, located in California's Kings Beach. You can order a variety of appetizers, salads, sandwiches and, of course, pizza. Rotating beer options and an extensive wine list are available, so sit right down – preferably on the outdoor patio if weather permits – and enjoy great food with a beautiful view.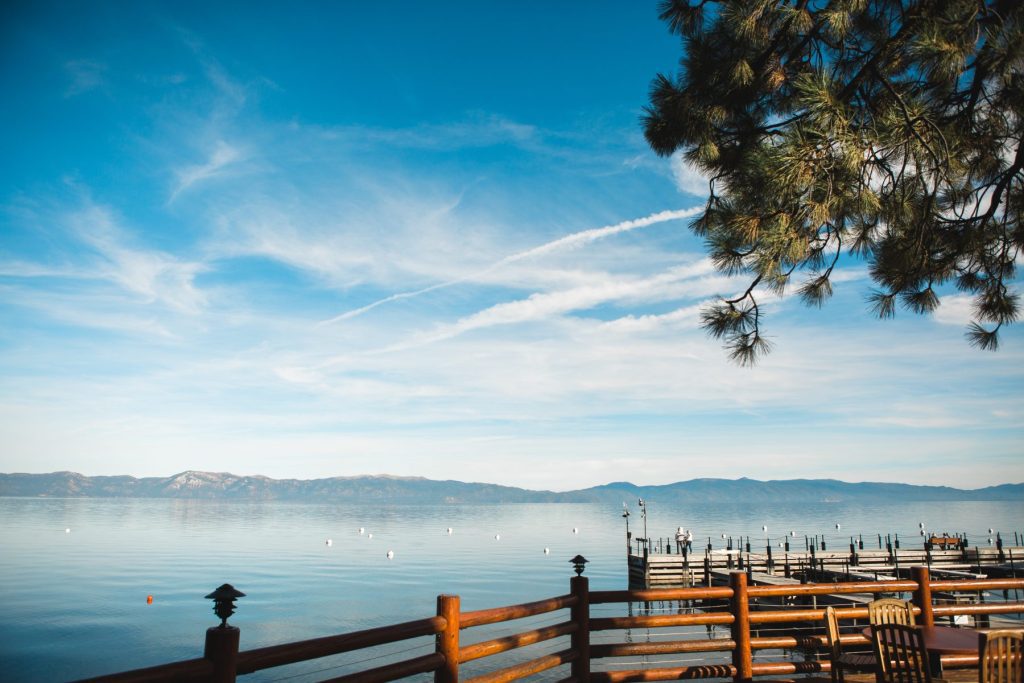 TAHOE CITY
For a truly memorable evening, visit Christy Hill Lakeside Bistro. The seasonal California cuisine with French-influenced sauces, as well as the extensive wine selection and delicious cocktails, are only part of the allure. Located 100 feet above the North Lake Tahoe shoreline, the restaurant includes an expansive outdoor dining deck, so whether you sit inside or outside, you'll have an outstanding view of North Lake Tahoe and, as night nears, a beautiful sunset. For a more casual atmosphere, take a seat at the SandBar Christy Hill, which serves drinks and lighter fare but offers the same incredible lake views.
Located on the North Lake Tahoe waterfront, Jake's on the Lake has one of the most enviable spots in California. Views of North Lake Tahoe's crystal-clear water and mountain vistas make this an excellent place to relax and have a good time. The classic waterfront grille offerings include influences from Hawaii and Southern California, with the seafood bar particularly popular among area residents. The family-owned and operated restaurant also hosts live entertainment.
With incredible views no matter the time of year, Sunnyside Restaurant & Lodge is the place to be during your stay in North Lake Tahoe. Two restaurants, the Lakeside Dining Room and Mountain Grill, share one of the largest lakefront decks in the region. The view matches the quality of the fresh seafood and premium steaks in the Lakeside Dining Room, with casual meals served at the Mountain Grill.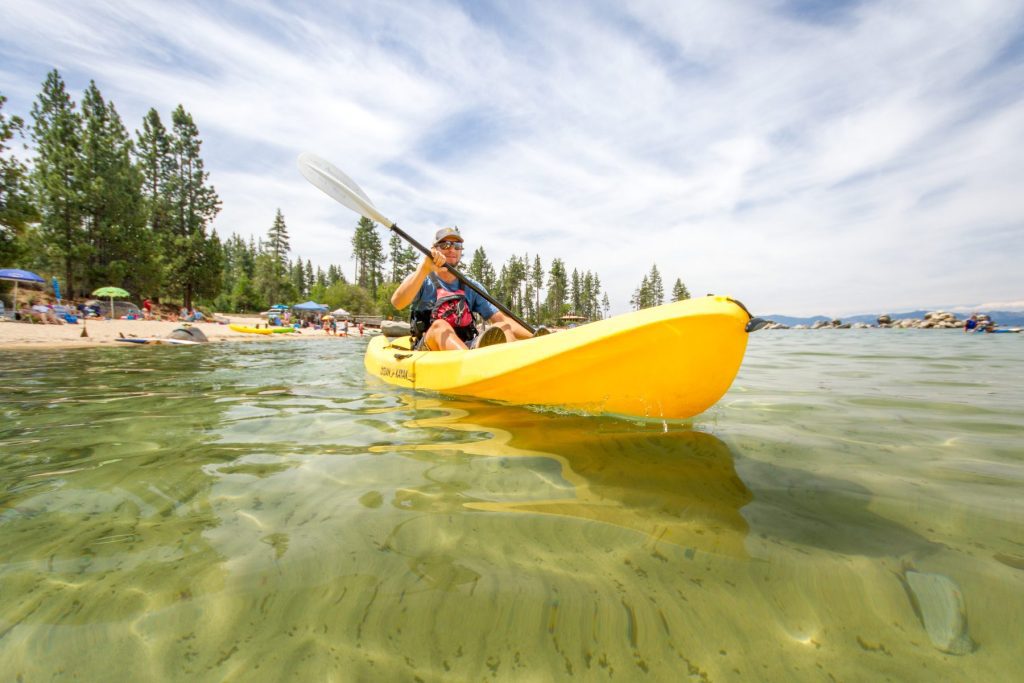 NORTH LAKE TAHOE ALE TRAIL
An array of watering hole destinations is the best way to end any North Lake Tahoe adventure. The North Lake Tahoe Ale Trail perfectly pairs outdoor activity and cold refreshments. Whether hiking, biking or kayaking, a great brew spot or restaurant is near your recreation site. 
PLAN YOUR TRIP TO LAKE TAHOE
We hope you enjoy the incredible lakefront dining in North Lake Tahoe as much as we do. While you're finding your new favorite establishment, make sure to take advantage of all that North Lake Tahoe has to offer.
There are hundreds of miles of hiking and biking trails for every level, as well as beaches, casinos, museums, shopping, golfing and so much more. The largest alpine lake in North America and the incredible granite peaks of the Sierra Nevada definitely deserve a closer look, especially if this is your first visit to North Lake Tahoe. And from bed and breakfasts to resorts, there's a lodging option to fit every budget. Enjoy!