About the Lake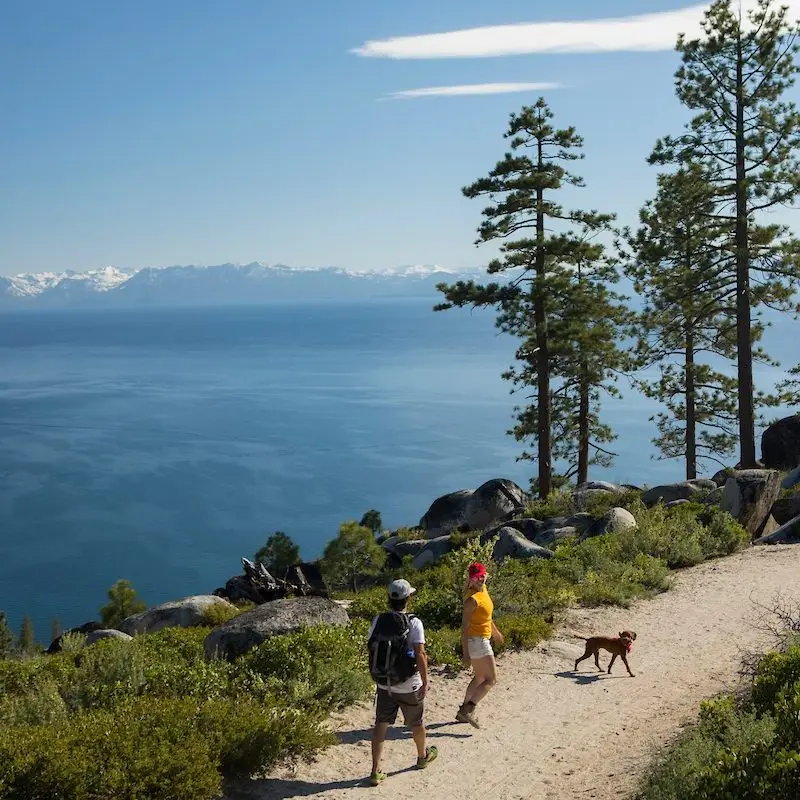 The timeless beauty of Lake Tahoe has captivated the imagination of visitors for eons from Native Americans and Mark Twain to modern day travelers.
Lake Tahoe has been recognized by national media outlets including Good Morning America, Travelocity, Orbitz, USA Today, The New York Times, The Weather Channel, ESPN The Magazine, among others for its scenic splendor and reputation as a leader in outdoor recreation, entertainment and dining.
Lake Tahoe combines the distinctive appeal of two worlds: spectacular natural beauty and a modern tourism destination. That ageless splendor and an emerging economic diversity toward health and wellness, green business practices and sustainability continue to define its inimitable personality.
Lake Tahoe is the largest alpine lake in the country, and is home to rocky coves, white sand beaches, plunging cliffs, and glacier carved granite peaks. Forests of Jeffrey and Sugar Pine line much of the 72-mile shoreline.
Towns and Regions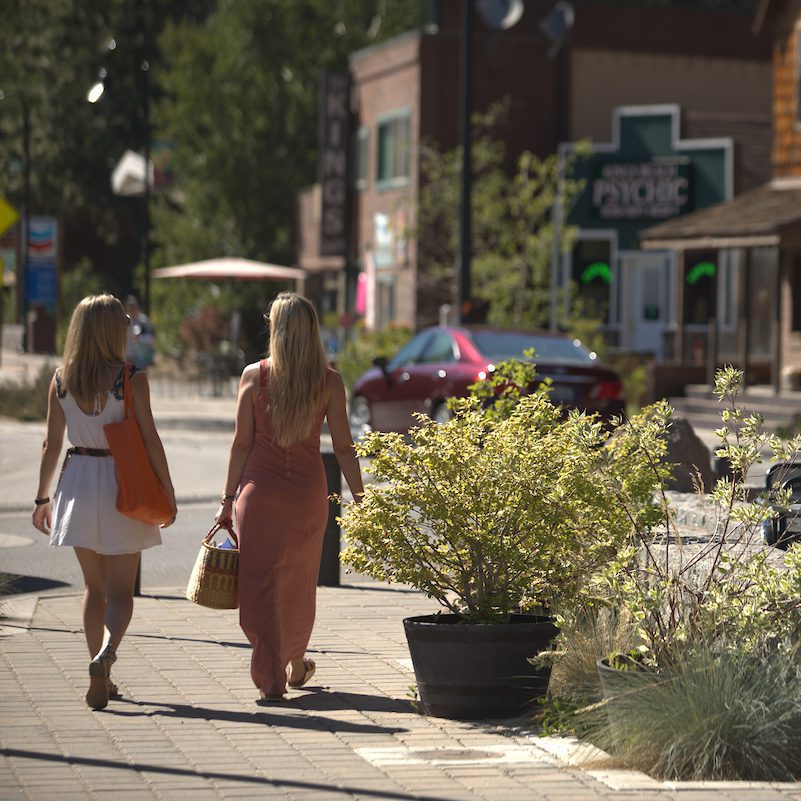 North Lake Tahoe is home to 12 unique towns – all with their own personality.

The Old Tahoe neighborhood of the West Shore is the vibrant downtown community of Tahoe City.
Historic Kings Beach was won in a poker game back in Tahoe's heyday.
Incline Village is home to some of the area's most awe-inspiring lakefront mansions.

North Lake Tahoe boasts the region's first-ever, five-star property, The Ritz-Carlton, Lake Tahoe, which opened mid-mountain at Northstar California in December 2009. Guests staying at the ski-in, ski-out property can take a gondola down to the Village at Northstar to experience a wide variety of shops, dining venues and outdoor games geared for kids.
Olympic Valley (home to the 1960 Winter Olympics) also boasts a vibrant village. The Village at Palisades Tahoe has high performance apparel shops, along with boutiques featuring the best name brands and a wide variety of dining venues.
On the Big Screen
Scenes from The Godfather II, Bonanza, The Bodyguard and City of Angels were shot in Lake Tahoe.
Lake Tahoe has long been a favorite of celebrities. In Crystal Bay, the Cal Neva Resort, Spa & Casino was once owned by Frank Sinatra and frequented by the Rat Pack and Marilyn Monroe. Their underground tunnel tour is very popular, and was the primary way Frank Sinatra accessed the showroom from his private bungalow.
Facts and Figures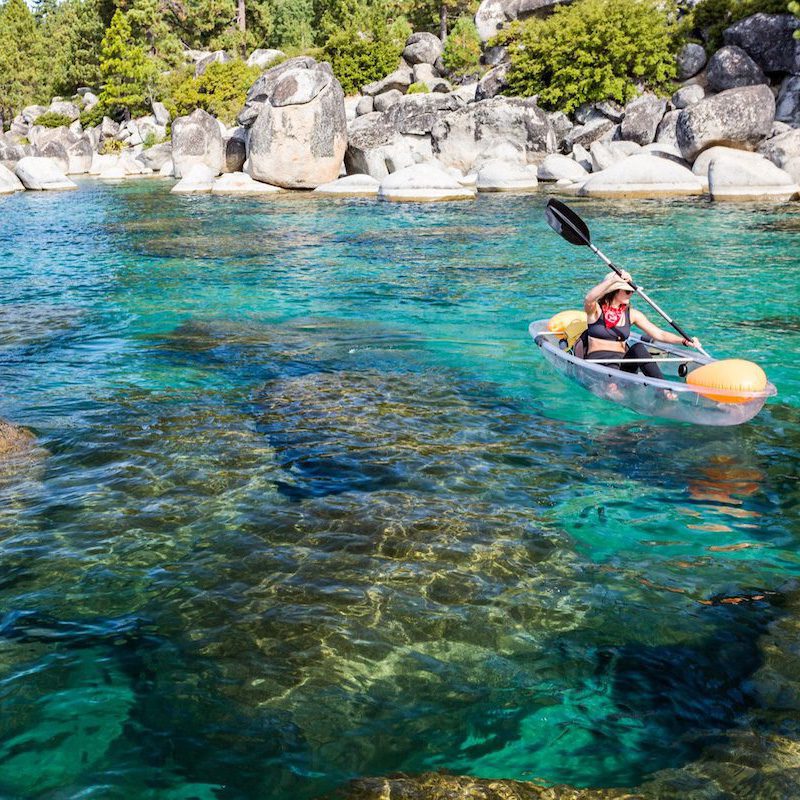 Elevation: The average surface of Lake Tahoe is 6,222 feet above sea level. The highest point in the Tahoe Basin is Freel Peak on the South Shore at 10,881 feet. Mt. Rose is the second highest point at 10,785 feet and offers a great summer hike.
Location: Lake Tahoe covers the Nevada/California border. It is 198 miles northeast of San Francisco, 100 miles northeast of Sacramento and 58 miles southwest of Reno.
Size: Lake Tahoe is the largest alpine lake on the North American continent. It is 22 miles long and 12 miles wide, with a surface area of 122,200 acres or 193 sq. miles.
Depth: The average depth of Lake Tahoe is 989 feet. The deepest point is 1,685 feet. It is the third deepest lake in North America. The U.S. Bureau of Reclamation controls the top 6.1 feet of the lake as a reservoir.
Temperature: During the summer months, the upper 12 feet of the lake can warm to 68° F. Below depths of 600 feet and in winter months, the temperature remains a constant 39° F. The lake does not freeze over in winter.
Volume: Lake Tahoe contains an estimated 39.75 trillion gallons of water. That's enough water to cover the entire state of California to a depth of 14.5 inches. The water that evaporates daily is 1.4 million tons, enough to supply the needs of 3.5 million people on a daily basis.
Purity: The water in Lake Tahoe is 99.7% pure, about the same as distilled water. It's so clear that a white dinner plate can be seen at approximately 70 feet below the surface.
Climate: The sun shines at Lake Tahoe during 75% of the year, or 274 days. Weather in the Sierra can be unpredictable and snowfall has been recorded in every month of the year.
Seasonal Tidbits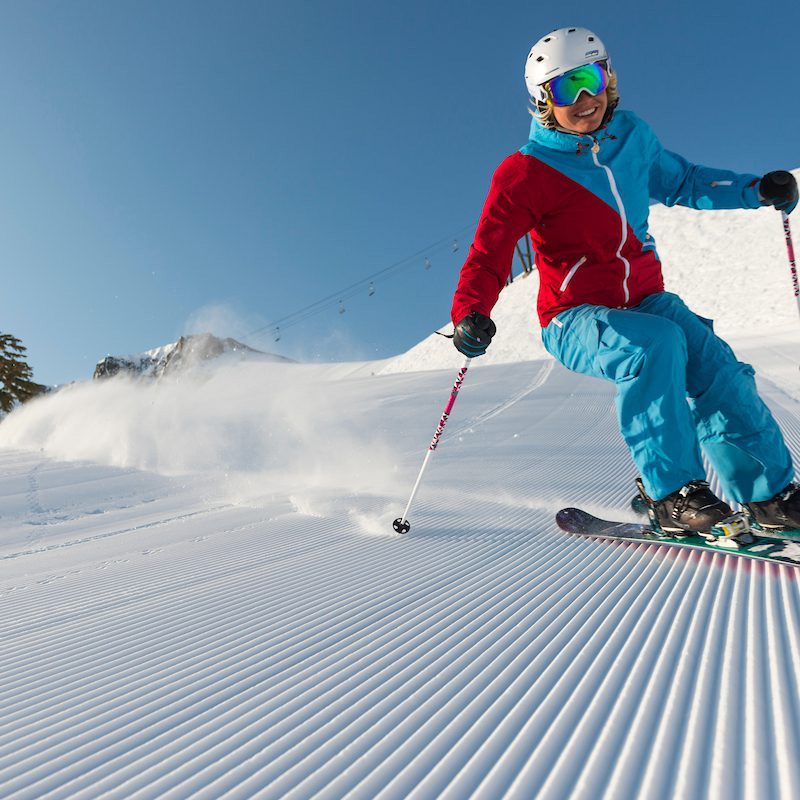 In the summer, visitors can hop aboard the Tahoe Gal, a Mississippi paddle wheeler docked in Tahoe City, and cruise into Emerald Bay.
Golf season begins in May, and courses are as abundant as water holes and sand traps. In fact, there are more than 50 courses in Lake Tahoe and within a 60-minute drive of the region, offering phenomenal opportunities for visitors to take a swing, including the exquisite Incline Village Championship Course.
Other summer activities include stand up paddle boarding, hiking, road cycling, mountain biking, sailing, water skiing and boating.
Tahoe has the largest concentration of alpine ski resorts in North America with more than 20 downhill and cross-country ski centers around the lake. Snowmobiling, sleigh rides, snowshoeing, and winter cruises on the lake also provide endless variety.
| | JANUARY | APRIL | JULY | OCTOBER | ANNUAL AVERAGE |
| --- | --- | --- | --- | --- | --- |
| Average High Temperature | 36° F | 51° F | 78° F | 58° F | 55° F |
| Average Mean Temperature | 27° F | 29° F | 61° F | 45° F | 43° F |
| Average Low Temperature | 18° F | 27° F | 44° F | 32° F | 30° F |
| Rain Inches (includes moisture content of snow pack) | 6.1″ | 2.1″ | .26″ | 1.9″ | 31″ |
| Humidity % at Noon | 75% | 70% | 35% | 54% | 54% |
About the North Lake Tahoe Visitor Bureaus
North Lake Tahoe is an ideal getaway destination for those wanting to recreate, as well as visitors desiring to relax in a spectacular alpine setting.
The North Lake Tahoe Visitor Bureaus are Travel North Tahoe Nevada and the North Tahoe Community Alliance. They work together to promote North Lake Tahoe as a premier, year-round destination.
For lodging reservations, recreation and event details, call North Lake Tahoe at 1-877-949-3296 or visit the Lodging page.
Visitor information centers are located at 380 North Lake Boulevard in Tahoe City and 969 Tahoe Boulevard in Incline Village.
North Lake Tahoe Public Relations Contact
Lindsay Moore, Director of Client Services, Augustine Agency
[email protected]
Andy Chapman, President & CEO, Travel North Tahoe Nevada
[email protected]