If you're familiar with  North Lake Tahoe, it's likely you already know that it's home to some of the most breathtaking natural sights in the world. You also probably know quite a bit about our top-tier lodging properties, downhill ski resorts, and the dual-season days that make spring in our region so exciting and unique.
What you might not know is that there's even more to explore in North Lake Tahoe than all of that awesome stuff we just mentioned. Take our local dining culture, for example. Did you know that our picturesque escape is home to over 150 restaurants across its mountain and lakeside regions? Even better, many of those restaurants are now offering takeout, in addition to indoor and outdoor dining, so you can taste the cuisine of the region while you explore its peaks, valleys, and shorelines.
That's a lot of chow to enjoy, but in this article, we wanted to draw focus to some of the gems of our region's local dining scene. Every Tahoe dining experience can be special, but the restaurants mentioned here are extra special to us—in large part because they're amazing and because we love them so much that we think more people should know about them. Check them out below.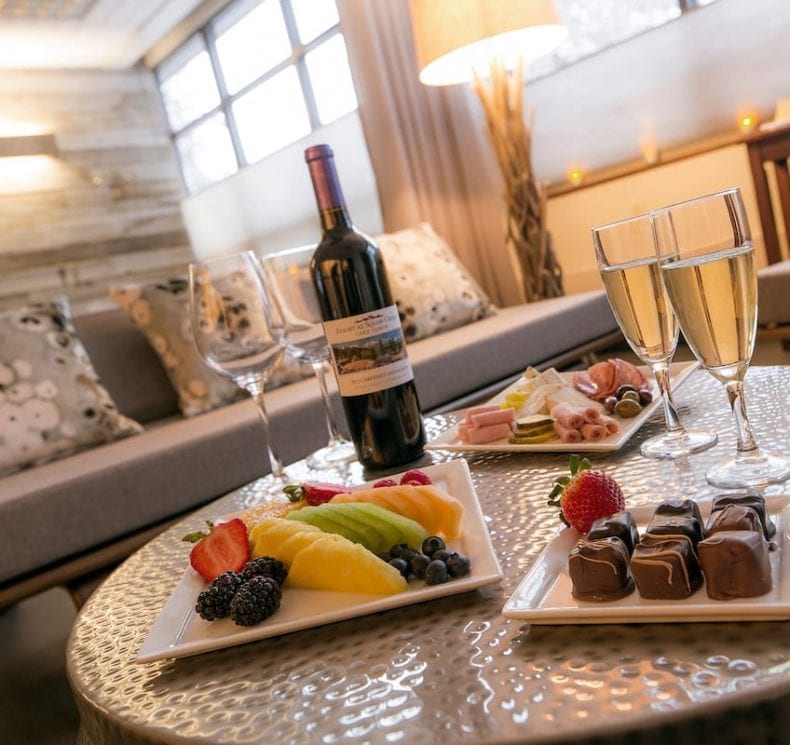 Pro-Tip: Enjoy twice the fun as you explore the region's dining offerings by participating in our Tahoe Eats Photo Contest. It's easy, fun, and the prizes are great. Photo courtesy of Resort at Squaw Creek.
Where: 1985 Squaw Valley Rd # 25, Olympic Valley, CA 96146 – Directions

When: Open 7 days a week, from 11:00 AM until 8:30 PM

What: Italian fare including pizza, pasta, antipasto and more—with a variety of specialty pizzas, gluten-free options and wines to choose from in a casual, family-friendly setting.
What's Different: The specialty pies at Fireside Pizza Co. are natural show-stealers that warrant extra consideration. The Thai Curry Chicken, Pear and Gorgonzola, and Smoky Barbecue Chicken pies offer bold flavors that you won't soon forget.
Where: 3001 N Village Dr Suite 3112, Truckee, CA 96161 – Directions

When: Between 2–4 PM until 10 PM on weekdays; happy hours from 4 PM–6 PM Monday through Friday.

What: Step into luxury at this chic, modern wine bar—which pulls out all of the stops to showcase local food and drink through farm-to-fork sourcing. Tapas are on the menu, of course, but the fun doesn't stop there.
What's Different: A lot of the time when you think of a wine bar, what comes to mind are small plates and long nights of wine flights. While you'll find all of the above at Petra, what you'll also find is a surprisingly robust dining menu which includes mussels, hummus, and liver mousse for those who want to snack, and steaks, stuffed eggplant and pork osso bucco for those who are wanting something a little more hale and hearty. And the outdoor patio in the spring is the perfect place to catch some sun!
Where: 1785 West Lake Blvd #5, Tahoe City, CA – Directions

When: Open Thursdays through Mondays from 3:00 PM until 8:30 PM. Closed on Tuesdays and Wednesdays.

What: Highly creative and flavorful American comfort food, beautifully plated and served in a decidedly elevated cozy-cottage chic setting.

What's Different: Nestled on the west shore, Spoon is quickly making a name for itself as a favorite among visitors and locals alike, so it's not exactly an unsung hero. In fact, people love this place so much that it earned a Traveler's Choice award from TripAdvisor (which is awarded to only the top 10 ranking properties in the community). Their clientele loves the large portions, and rich flavor profiles. A word of advice? Don't leave without dessert. 
Where: 599 N Lake Blvd, Tahoe City, CA 96145 – Directions

When: 11:00 AM until 9:00 PM Sunday through Thursday; add one more hour of fun on Friday and Saturday, as the bar and grill closes at 10:00 PM on those days.

What: This is the quintessential bar and grill experience, with large burgers, indulgent portion sizes, simple-but-delicious American bar fare (not to mention a few surprises). Even better? Fat Cat Bar & Grill places heavy emphasis on sourcing their eats from local farms.
What's Different: Sometimes all you need is a big burger, a hefty brew, and some pub fare with flair to get into good spirits. That's what you'll find at the Fat Cat Bar & Grill, which offers every configuration of burger you can probably think of, and then some. It's a safe bet to enjoy any of the on-menu burgers (the lamb burger might just be calling your name; or the Beyond meat burger if you're of the plant-based persuasion), but we wouldn't skip the chili, the ahi poke bowls, or the hot wings if we were you.

FUMO
Where: 120 Country Club Dr UNIT 61, Incline Village, NV 89451 – Directions

When: Open Monday through Wednesday from 7:00 AM to 2:00 PM; Thursday through Sunday from 7:00 AM to 9:00 PM.

What: A quaint, casual classic American-style eatery with patio and balcony seating, cocktails, breakfast, lunch and dinner.
What's Different: FUMO is adored by locals and visitors alike for its super-friendly service and convenient location. Besides those markers of quality casual ambiance, there's the broad dining and cocktail selection, which can see you veering from bloody marys, to lobster sliders, to linguine in the course of a single meal if you so choose. They recently added outdoor snow globe dining that makes the dining experience outdoors in North Lake Tahoe a bit different – and warmer!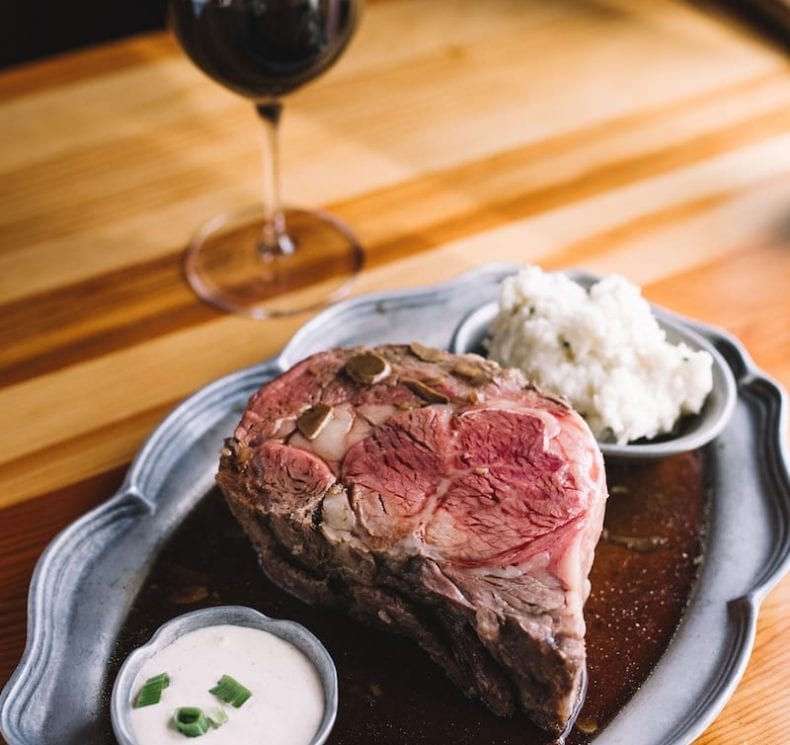 Old Range Steakhouse offers a window into North Lake Tahoe's glamorous past. Photo courtesy of Old Range Steakhouse.
Where: 7081 N Lake Blvd, Tahoe Vista, CA 96148 – Directions

When: Open 7 days a week from 5:00 PM to 9:00 PM.

What: A classic, glamorously vintage-style steak house with low lighting, plenty of filets, and clear views of the lake.
What's Different: If you search "best steaks in North Lake Tahoe", this place comes up first on a number of review sites, which is a pretty strong endorsement considering how tough restaurant reviewers can be. This place also happens to be another winner of TripAdvisor's coveted Traveler's Choice distinctions. Visitors rave about the filet mignon, prime rib, the gnocchi, and the restaurant's excellent preservation of "old school Tahoe at its finest".
Dining in Tahoe is an experience unlike anywhere else in the world—not only because of the food or its lakeside setting, but also because of the culture of local connection and support that makes the region so vibrant. We invite you to share that experience with us and enter the North Tahoe Eats Photo Contest for a chance to win a series of gift cards or the grand prize of a GoPro and dining gift card package. 
As you plan your stay in our mountain paradise, we invite you to be a part of that culture, which is built on a deep-rooted love and respect of this place, its people, and our duty to protect it for generations to come. 
Learn more about how we respect the region and one another as we navigate rapidly changing circumstances by accessing our "Know Before You Go" guide and video here.