There are few places as beautiful as Lake Tahoe, and perhaps no better way to take in its magnificence than on an electric bike.
Electric bikes – commonly known as e-bikes – are similar to traditional bikes except they include a compact electric motor and a battery, which holds the power to drive the motor. You can pedal all the time, activate the motor to provide assistance with pedaling or let the bike do the work full time. E-bikes make transportation accessible for all. With the ability to ride at a speed of up to 20 mph (28 mph on some e-bikes), you'll be able to see more of North Lake Tahoe's beauty in less time and increase mobility – see below for tips on how to ride safely.
E-BIKE RENTALS IN NORTH LAKE TAHOE
North Lake Tahoe has an impressive system of paved bike trails that are perfect for e-bikes, and there are plenty of shops where you can rent them for the day or the week.

Whether you're interested in a comfort e-bike to traverse the paved bike paths or an e-mountain bike for the trails, these shops have it. Many shops also include a helmet and a bike map with your rental. And if you're interested in owning an e-bike, you can find both new and used bikes, too.
Check out: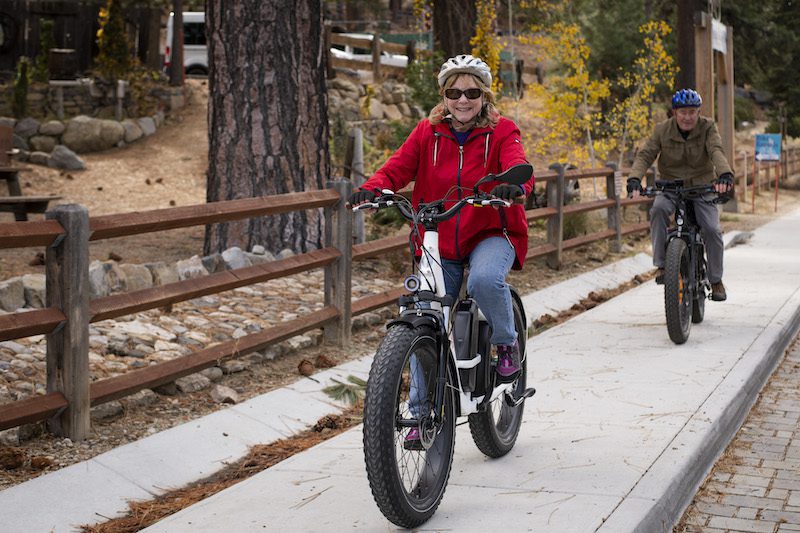 WHERE TO RIDE
The East Shore Trail, known as "America's Most Beautiful Bikeway," is an approximately 3-mile easy-to-moderate trail that begins in Incline Village and ends at Sand Harbor State Park. Along the way, you may come across birds such as the osprey hawk and mammals like the American marten.
About halfway through the East Shore Trail, you'll have the option to park your bike and take a moderately challenging 1.3-mile hike to Monkey Rock, a carved granite rock that draws visitors year-round. The incredible panorama of Lake Tahoe from the peak is breathtaking. Returning to the bike trail, continue on to the state park where you can enjoy sandy beaches and a bite to eat at one of several stops.
The ride from Tahoe City to Dollar Point will allow you to make stops at beaches, campgrounds and a variety of shopping venues and food-and-drink locations. The relatively level Tahoe City Lakeside Bike Path is an approximately 3-mile route with a slight uphill climb.
The Historic Truckee River Bike Path is a 5-mile ride that's perfect for the whole family. The level route takes you alongside the Truckee River to Palisades Tahoe, with plenty of stops for refreshments. The path is the original Tahoe-Truckee Toll Road built in 1860, which enabled horse-drawn freight and passenger wagons to travel between the lake and Truckee.
For a longer bike ride, try the West Lake Tahoe Bike Path, a 10-mile cruise that starts at Tahoe City and ends at Meeks Bay – nearly half the distance from North to South Tahoe. Take some time to tour the Hellman-Ehrman Mansion at Sugar Pine Point Park in Tahoma. The 11,700-square-foot summer home, built in 1903, overlooks the lake and is an example of early-1900s Lake Tahoe elegance.
For those who enjoy the reward at the end of a long journey, we suggest the North Lake Tahoe Ale Trail. Spend the day exploring the wonder of North Lake Tahoe on an e-bike, then end up at a superb brewery, bar or restaurant. There's a video series and interactive map that will point you in the right direction. Just make sure that the path you choose is e-bike friendly before heading out.
TAKE THE TOUR
Enjoy a bike ride and learn about Lake Tahoe history from an experienced tour guide. The Tahoe Adventure Company offers a variety of easy and moderate tours that will have you cruising through the forest, alongside Lake Tahoe and passing the spectacular mountains and valleys. Ideal for e-mountain bikes, there are single-track trails and dirt roads for both new and experienced riders and your knowledgeable guide will have you learning fascinating facts about the area. You can also combine the bike tour with other sports, such as hiking, paddleboarding and kayaking.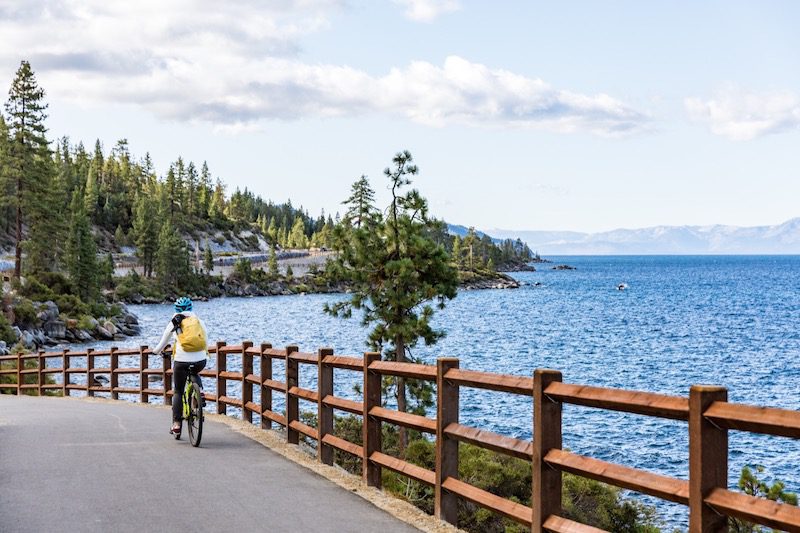 TAKE CARE
As with any sport, it's important to have the right equipment and follow the rules of the road.
Here a few tips to remember:
Make sure to have a trail map, even if you're an experienced biker.
Adhere to speed rules and laws.
Dress according to the weather and have a first aid kit available.
Check weather conditions before you ride – biking in the rain and snow is not advised.
Bring a cellphone, snacks and water, especially on longer rides.
Ride only on designated trails, paths and roads. Trails for e-bikes are different than trails for road and mountain bikes.
Use proper hand signals as a courtesy to other riders.
To protect and preserve the area's natural beauty, residents and visitors are asked to commit to North Lake Tahoe's Traveler Responsibility Pledge as a reminder to travel with awareness and observe the impact of their actions.
RIDE INTO THE SUNSET AND STAY IN NORTH LAKE TAHOE
From budget-friendly inns to four-star resorts, North Lake Tahoe has a variety of lodging options. Let us help you plan your stay and make the most of your e-biking adventures.